"If there are super-intelligent aliens out there, they're probably already observing us—that would seem quite likely—and we're just not smart enough to realize it."

-Elon Musk, founder of Tesla & SpaceX, Dubai World Government Summit (2017)
"I Want To Believe."
This slogan is displayed prominently on a poster above Fox Mulder's desk in the pilot episode of The X-Files, which went on to become a cultural phenomenon. The show followed two FBI agents as they investigated ETs and the paranormal. It was Agent Mulder who was the open-minded one, counterbalanced by the skeptical Scully, who was always questioning her partner's "spooky" theories.
It was Agent Mulder, however, who turned out to be correct, as we later learn from a high-level government insider: "they've been here for a long, long time."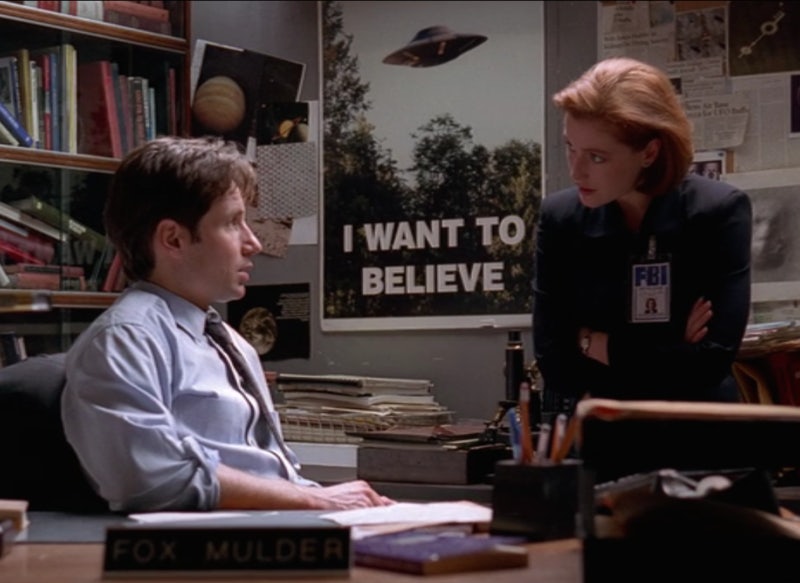 As a child of the '90s, it was easy to admire someone like Mulder, enamored by his virtue, bravery, and yes, his willingness to believe. Even through a TV screen, his fervor for the unadulterated truth was contagious indeed, sparking something latent in my young heart and setting it ablaze. Soon, I wanted to believe too.
It wasn't until my early teenage years, after stumbling across a documentary on the Roswell crash, that I realized there might be something more to this than just belief. There were deathbed confessionals, after all, from top military officials! There were leaked photos of an alleged alien autopsy! Unbelievably, there was even an "alien interview" with a creepy-looking black-eyed being on YouTube!!
"Why aren't people freaking out over this?!" I wondered. "This is the real X-Files!"
Luckily, once you dig through so much BS you're bound to find a critical mind. So after researching this topic for over a decade, I recognize that the large majority of stuff on the internet is complete misinformation (perhaps deliberate disinformation), coming to appreciate the skeptical mind of Scully after all.
However, there are several cases that I consider diamonds in the rough, ones we should study thoroughly and take very seriously. These cases lend validity to the idea that we are being visited by creatures from another planet—possibly, even, "for a long, long time." Hence leads me to the creation of a series I will aptly title "The Real X-Files," exploring the best evidence I've come across for ET life.
In this first installment, we analyze the groundbreaking work of Dr. John Mack, particularly delving into the extraordinary case of the children of Ruwa, Zimbabwe. So open your mind, come along on this journey, and leave everything you thought you knew about reality behind . . .
"The alien abduction experiences themselves are often initially quite frightening. Yet over time many experiencers form a powerful bond with one or more of these beings. People become deeply connected with these entities.

"They have palpable experiences that are just as powerful, sometimes more powerful, than relationships here. They view them not just as these cold, calculating, indifferent big-eyed creatures, but bonds develop between experiencers and those strange creatures which often has an intense, transcendent, spiritual, sometimes even erotic, element to it.

". . . [They] are coming now 'because they are conscious that we as human beings on this planet are destroying ourselves, and they love us and wouldn't see this happening.' They are trying to influence us by bringing knowledge and understanding of our connection to each other and to the Earth and a reminder that 'we are just one part of a big, big whole.'"

-Dr. John Mack, speech at Seven Stars Bookstore (2000)
There was a Time When John E. Mack was an Academic Superstar.
He was a force in developmental psychology. In 1977, he was awarded the Pulitzer Prize for his book A Prince of Our Disorder. That same year, he became department head at Harvard Medical School, specializing in child psychiatry, where he was well-respected throughout the entire university. He interviewed US presidents. He was a prominent voice of nuclear disarmament. And in 1985, he was part of an organization that was given the Nobel Peace Prize, teaming up with other intellectuals who shared this same view.
John Mack was a man who could have played it safe. He could have lived a long and comfortable life, emboldened by his wealth and academic stature. All that changed by the turn of the '90s, when he did something so unspeakable for a man in his position it shattered his reputation among colleagues:
He began taking cases of UFO contactees seriously.